Design & Concept: Jennifer Rudelove
This little summer collection happens, at a time we all were part of. It doesn't follow a concrete concept but got created during the personal circumstances I was in. Scroll down when you want to read more.

Diese kleine Sommerkollektion passierte zu einer Zeit, an der wir alle teilhatten. Ihr folgt kein konkretes Konzept, sondern ist aus meiner persönlichen Situation heraus entstanden. Scrolle nach unten, wenn du mehr lesen möchtest.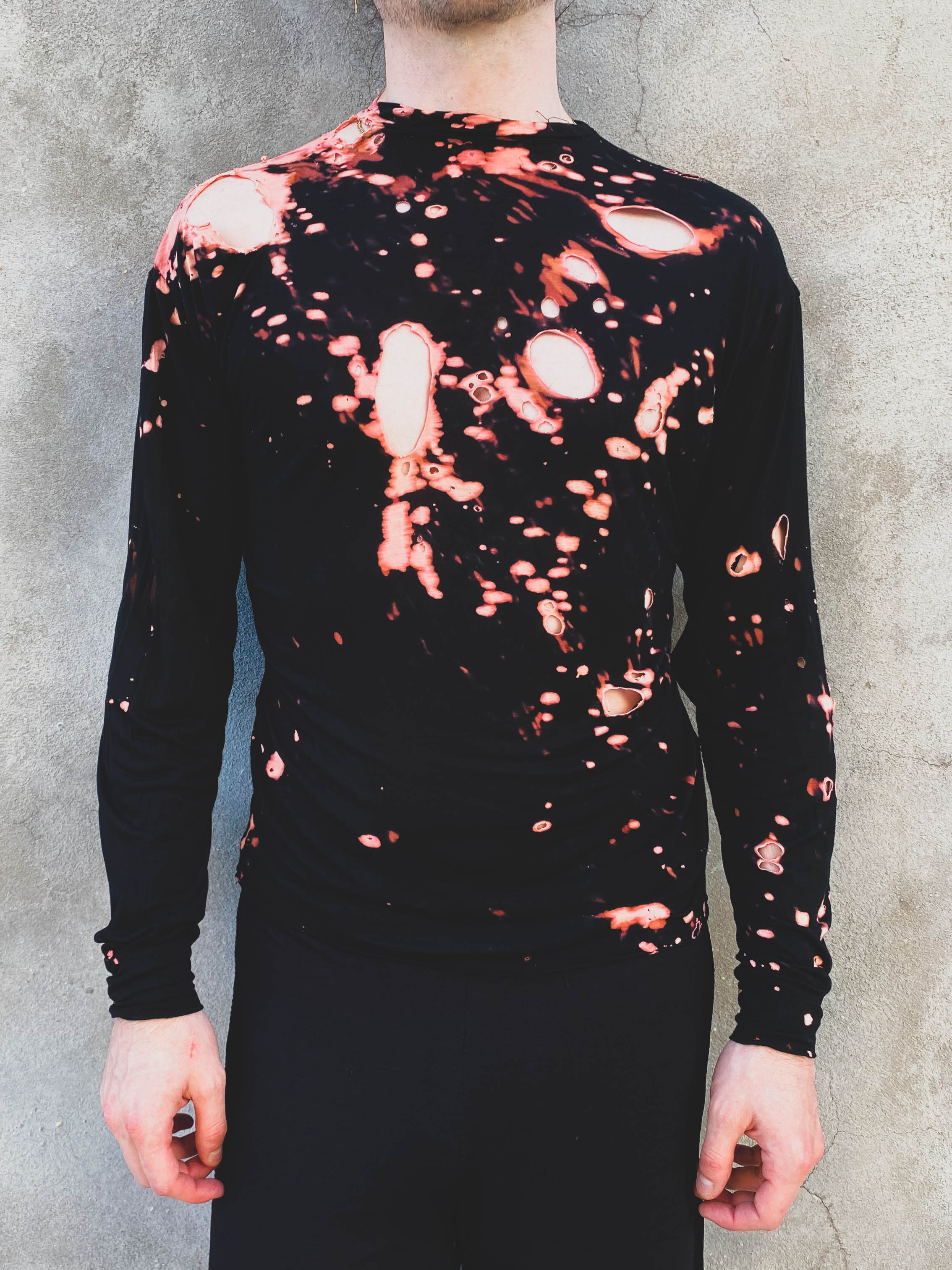 English:
At the beginning of March 2020, I flew to New York to actually start a three-week road trip to California. Due to the new corona situation, I was stranded in Brooklyn for 4 months instead and was able to experience the first spring of the pandemic from a very unusual perspective.

Since all travel was forbidden and all my attempts to fly back to Berlin were cancelled, I was stuck in New York. At night, in the city where no one sleeps, everyone had now isolated themselves. So I cruise alone with a "Citi Bike" through the empty streets, China Towns, Time Square, Brooklyn Bridge, Greenpoint - only the foxes crossed my path. During the day, like everyone else, we were asked to stay in the apartment. I was lucky that I lived with my closest friend and my former roommate from Berlin - both are a couple, ... through me :)
SHE, Emergency Doctor in Bellevue /NYU, from Boston /San Francisco. HE, very politically active, from New York.

At first, only the roof over our apartment was my freedom from the outside - surrounded by deathfull stillness in the middle of the city. In addition to social media, shopping and the half-knowledge about Sars-CoV, there were only the three of us for more than 2 months.
My friend intubated people daily. In the hospital, she saw the barely healthy-looking people walk in, spontaneously collapse and die. It was a constant pressure and stress for HER to see that the traditional ideas for treating the known symptoms were not producing the desired results. A powerlessness ruled the city. The morgues had reached capacity.
Every day before SHE entered the apartment, she undressed completely in the hallway, packed her contaminated clothes in a plastic bag and immediately took a shower. When SHE came, HE and I either slept; make food or work. HE was building a promising new home office business and was politically involved. I am working on a concept for a collection, writing and making videos. I was often on the roof and the only noise from the street at 7pm was cheering for the doctors or when I turned the music up loud.

At some point, I was given a sewing machine and a lot of black fabric. It twitched in my body - the urge to do something. But it all felt a little trivial when there was so much grief elsewhere. It's hard for me to do something without a deeper reason. But it's also okay to just feel like a medium and to give a concept to art or design only through the context of time. Make it easy.
Although it was already warmer, the streets were still very empty. It was early May. I taught myself a new piece on the piano, played soccer, jogged, created. It became a small, fine summer collection in black. Meanwhile, many people had died.
I supported HER mentally with the medical emergency and asked HIM about his political activities. It was about generating votes for the left-wing electorate. However, does that interest me at all, as a non-American?

The game changer, at the end of May: In the USA, the topic of Covid-19 was replaced by George Floyd's death. A vacuum was broken. The chapter of this dark American history got new faces. Empty streets became crowded BLM demos. The situation quickly flared up. Now HE became active. The explosive nature of Covid-19 faded, and our attention was now focused on the topic of BLM. We organized ourselves. Goggles, FFP2 masks, signs: "EVICT COPS", DISARM RACIST NYPD" etc. We went to the various demos. Calm ones, restless ones. Against white supremacy, against a systematically sick power structure of the American police and against our own racism, which we probably all hate to carry within us.

It was still Covid-19. However, it was no longer quiet on the roof. The demos filled the streets with sound. It was loud and booming. The sun was beating down, reflecting flashes of light from the helicopters flying overhead. I laid the small, fine collection flat on the roof and sprinkled it with chlorine. I let the long-awaited sun eat holes in it. Perhaps symbolic of my realization, which was slowly crumbling my naive reality.
German:
Anfang März 2020 flog ich nach New York, um dort eigentlich einen dreiwöchigen Roadtrip nach Kalifornien zu starten. Aufgrund der neuen Coronalage strandete ich aber stattdessen für 4 Monate in Brooklyn und durfte damit den ersten Frühling der Pandemie aus einer ganz ungewöhnlichen Perspektive erleben.

Da jegliches Reisen untersagt war und damit auch all meine Versuche zurück nach Berlin zu fliegen gecancelt wurden, war ich also stucked in New York. Nachts, in der Stadt, in der niemand schläft, hatten sich nun alle isoliert. Dadurch cruisde ich allein mit einem "Citi Bike" durch die leeren Straßen, China Towns, Time Square, Brooklynbridge, Greenpoint - nur die Füchse durchkreuzten meinen Weg. Tagsüber wurden wir, wie alle, angehalten in der Wohnung zu bleiben. Mein Glück war es, dass ich bei meiner engsten Freundin und meinem ehemaligen Mitbewohner aus Berlin wohnte - beide sind ein Paar, ... durch mich :)
SIE, Notfallärztin in Bellvue /NYU, aus Boston /San Fransisco. ER, sehr politisch aktiv, aus New York.

Zunächst war also nur das Dach über unsere Wohnung meine Freiheitnach draußen - umgeben von Totenstille mitten in der Stadt. Mehr als 2 Monate gab es neben Social Media, Einkauf und dem Halbwissen zu Sars-CoV nur uns drei. Meine Freundin intubierte täglich Menschen. Im Krankenhaus sah sie die gerade noch gesund aussehende Leute reinspazieren, spontan zusammenbrechen und sterben. Für SIE war es ein andauernder Druck und Stressfaktor zu sehen, dass die herkömmlichen Ideen zum Behandeln der bekannten Symptome nicht die gewünschten Resultate mit sich brachten. Eine Machtlosigkeit beherrschte die Stadt. Die Leichenhallen hatten ihre Kapazitäten erreicht.
Jeden Tag bevor SIE die Wohnung betrat, zog sie sich im Flur komplett aus, packte ihre kontaminierte Kleidung in einen Plastiksack und ging sofort duschen. Wenn SIE kam, schliefen ER und ICH entweder; machten Essen oder arbeiteten. ER baute sich gerade ein vielversprechendes neues Business im Homeoffice auf und engagierte sich politisch. ICH arbeite an einem Konzept für eine Kollektion, schrieb und schnitt Videos. Ich war oft auf dem Dach und das einzige Geräusch der Straße war um 19 Uhr der Beifall für die Ärzte oder wenn ich Musik laut aufdrehte.

Irgendwann bekam ich eine Nähmaschine und viel schwarzen Stoff geschenkt. Es zuckte in meinem Körper - der Drang, was zu machen. Doch fühlte sich auch alles etwas belanglos an, wenn woanders so viel Kummer herrscht. Es ist schwer für mich ohne tieferen Grund etwas zu machen. Doch es ist auch okay sich mal nur als Medium zu fühlen und damit nur durch den Kontext der Zeit, der Kunst oder dem Design ein Konzept zu verleihen. Einfach machen.
Obwohl es bereits wärmer war, waren die Straßen immer noch sehr leer. Es war Anfang Mai. Ich hatte mir ein neues Stück auf dem Klavier beigebracht, war Fußball spielen, joggen, habe kreiert. Es wurde eine kleine Sommerkollektion in Schwarz. Derweil waren viel Menschen gestorben.
Ich unterstütze meine Freundin seelisch bei der medizinischen Notlage und fragte IHN über seine politische Aktivität aus. Es ging darum, Stimmen für die linke Wählerschaft zu generieren. Jedoch interessiert mich das überhaupt, mich als NichtamerikanerIn?

Der Gamechanger, Ende Mai: In der USA wurde das Thema Covid-19 abgelöst von George Floyd's Tod. Ein Vakuum wurde gesprengt. Das Kapitel dieser düsteren amerikanischen Geschichte bekam neue Gesichter. Leere Straßen wurden zu dicht bedrängten BLM Demos. Die Lage hatte sich schnell entzündet. Nun wurde ER aktiv. Die Brisanz um Covid-19 wich und unsere Aufmerksamkeit richtete indessen aufs Thema BLM. Wir organisierten uns. Schutzbrillen, FFP2-Masken, Schilder: "EVICT COPS", DISARM RACIST NYPD" etc. Wir gingen auf die verschiedenen Demos. Ruhige, unruhige.Gegen White Supremacy, gegen ein systematisch krankes Machtgefüge der amerikanischen Polizei und gegen den eigenen Rassismus, den wir wohl alle ungern in uns tragen.

Es war immer noch Covid-19. Auf dem Dach war es jedoch nicht mehr ruhig. Die Demos beschallten die Straßen. Es war laut und dröhnend. Die Sonne knallte und reflektierte Lichtblitze von den über uns fliegenden Hubschraubern. Die kleine, feine Kollektion legte ich flach aufs Dach und besprenkelte sie mit Chlor. Ich ließ Löcher durch die langersehnte Sonne reinfressen. Vielleicht symbolisch für meine Erkenntnis, die langsam meine naive Realität bröckeln ließ.

Credit
Design & Concept: Jennifer Rudelove
Model: Marlis Gnirke, Luke Spieldenner